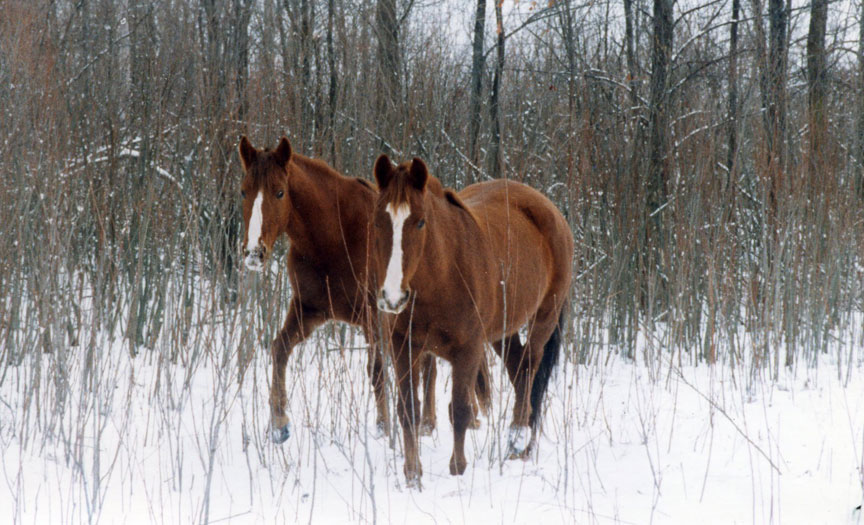 Seeing Shadow, my first horse, change from a frightened, undernourished colt into the handsome, talented, totally reliable partner and trail horse I shared my life with and depended on for 25 years convinced me that natural horsemanship is the way to build a trusting bond with a horse.

Amber, my Morgan mare, joined Shadow and me when she was just 3 years old. In exchange for healing her emaciated body, I received her papers. Amber was the very best mare who ever walked the face of the Earth. She gave me everything during our first 25 years together. She raised two daughters. She showed Class A Morgan Circuit. (Hunt Seat Hack was her favorite class.) She was Boss Mare and led her herd with kindness and gentleness. She did trail rides with children and adults. Amber was my chief Western Pleasure lesson horse, until her arthritis worsened and made her trip under unaccustomed riders. She became too worried about her rider's safety to continue giving lessons. It was then my turn to care for Amber, hopefully as well as she had cared for me and mine. I did my best. She and I still spent time riding bareback whenever she asked. I watched her prepare me, her daughters, and her herd to go on without her. In the fall of 2016, I allowed her to spend the night out in a small pasture with her daughters. That next morning, Breezy and Kumbaya were ready. It was then that Amber told me she was tired; her job in this life was done. All she wanted was for me to hold her head in my lap, as we set her spirit free. Amber was 32-3/4 years old.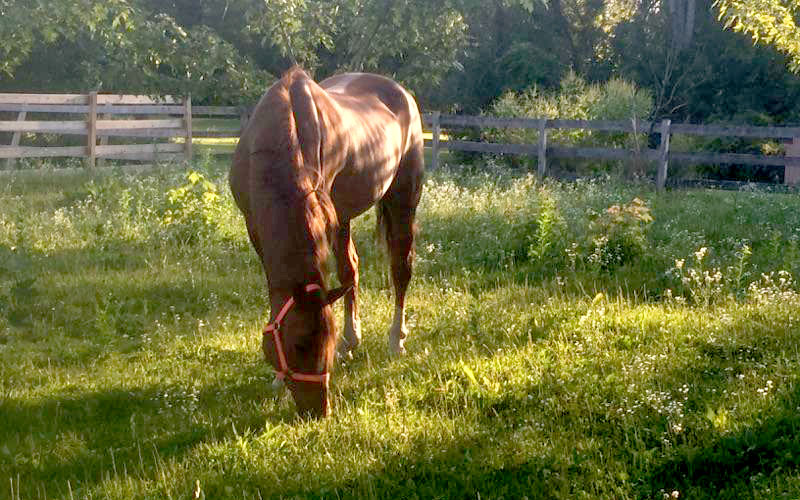 I worked with a local horse rescue for a bit, training the horses for adoptability, coordinating the other volunteers' work with the horses, and serving on the Board. When "the fit" turned bad with the Board, I left. But that's where I found Coree and where Coree was when he chose me. That's when a friend who serves on the Board of Crossroads Donkey Rescue asked me to evaluate a troublesome standard donkey she was fostering. That's how I found my Rescue home: Crossroads Donkey Rescue.

The Duke of Crossroads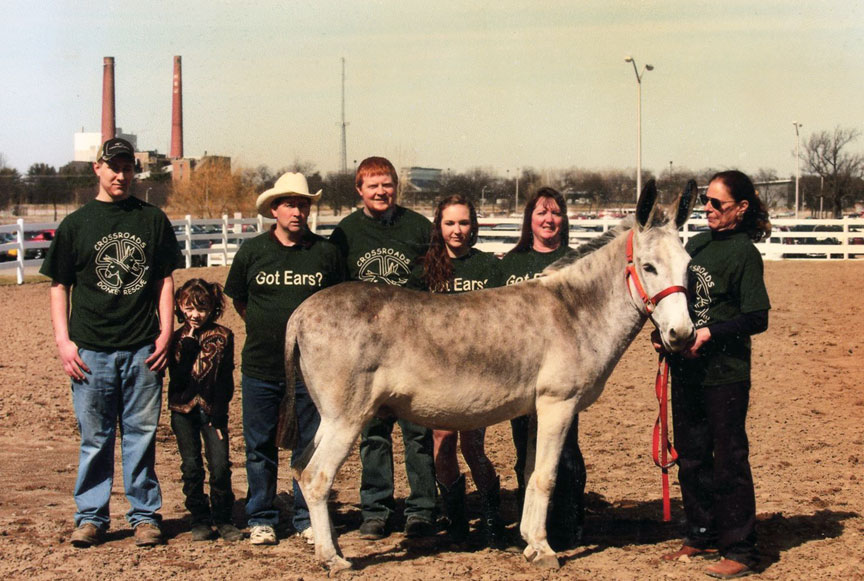 When Duke came into Crossroads, he was highly aggressive, both with other animals and with people. We now know he had good reasons for his unacceptable behavior. He had been physically abused; and he was in pain. Duke bears scars, all over his body, from a bull whip. Regular chiropractic care addresses an old injury to his ribs, probably the result of a cart accident. But Duke has risen above all that, since he, for humbling reasons unknown, chose me to help him change and move on with the next chapters of his life. He's now The Duke of Crossroads, our beloved mascot, and one of my Yodas.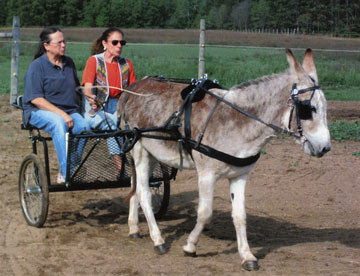 The Duke drives a cart, rides under saddle, and does obstacles in hand and in cart. He also makes public appearances, year round, to promote the Rescue and raise money to support his entire Rescue family. (To date, the contributions received from people touched by Duke total thousands of dollars that buy hay for the 160-200 members of Duke's Rescue family in Clare and Harrison, Michigan.) The Duke is talented, gentle, loving and compassionate. In fact, he's now made his own decision to provide therapy for emotionally, physically, and mentally challenged people … from me to absolute strangers. The Duke is our mascot, because he's a prime example of what Crossroads, through its dedicated volunteers, can – and does – accomplish … everyday.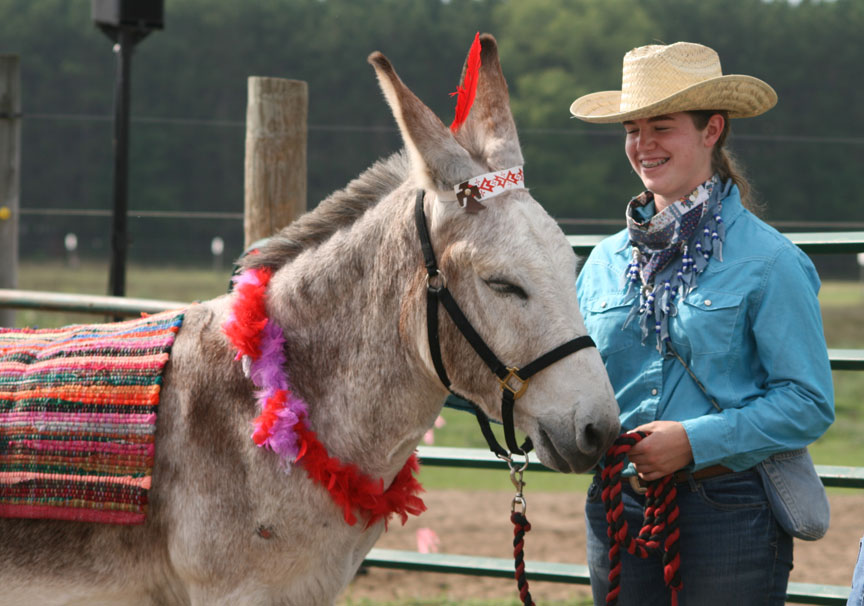 I do my part, by fostering The Duke, accompanying him to his events, and helping him raise funds to support Crossroads' permanent residents and those long ears still awaiting their forever new homes. I also make myself available, at discounted rates, to the wonderful people who adopt from Crossroads and want some extra help with their new "kids".
Rescue work is incredibly fulfilling. It's one of my true passions. "Ass whisperer" that I am, I can make a real difference in the quality of life for four legged creatures who have fallen on hard times, most often through no fault of their own. They're honest, forthright, and forgiving. Given the opportunity, they want to please. All they need from us is trust, patience, and consistency. And yes…they give us back far more than they receive.